Go back
Crop farmer using a variety of manure and dairy processing residues to recycle and build soil C, N, P fertility
30/06/2020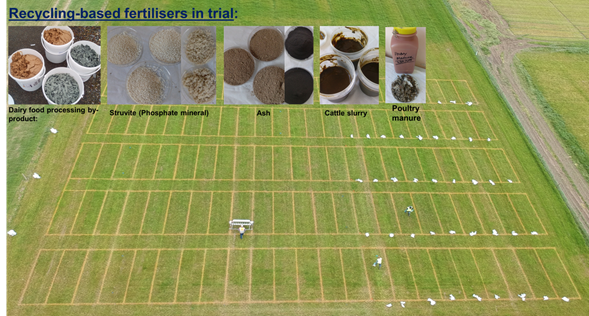 In order to facilitate closing the nutrient cycle loop within the agro-industrial food supply chain, the Nutri2Cycle consortium partner researchers at Teagasc in Ireland are assessing the fertiliser efficacy and agronomic quality of a number of bio-based fertilisers (dairy food processing sludge of two types, poultry manure, broiler manure and cattle slurry) on arable crop production in comparison to chemical fertilisers. The selected bio-based products are valuable source of crop nutrients (N, P, K, S). In the first year (2019) maize was the crop grown, and preliminary results show that the fertiliser programmes incorporating organic manures yielded as well as the mineral only fertiliser programmes, showing potential for cost savings and delivering carbon in addition to just N, P, K, S from the mineral fertilisers. Results were presented in the National Tillage Conference in Ireland on 29th January 2020. Please see attached poster entitled "Can crop farmers benefit from substituting a portion of mineral fertiliser with organic sources of N, P, K and S?". Also, one of the interesting findings from examining the trial data was the trend for soil P and K levels at the recommended fertilisation rate to drop between planting and harvest, which highlights the importance of maintaining optimum soil fertility (P & K Index 3) and producing high yields of maize silage. Further read on this is available in an article entitled "High-yielding maize – are you matching P and K off-takes?" published in the special agro-magazine Today's Farm.
In line with Nutri2Cycle project duration (four years), the arable site was established in April 2019 on the tillage farm of Sylvester Bourke, Arklow, Co. Wicklow (Figure 1). Each year for the next four years, the same trial site plots will receive a balance of recycled organic bio-based fertiliser balanced to crop nutrient requirements using conventional mineral fertiliser appropriate to the crop grown in that year as part of the overall rotation. For example, the 2020 trial is currently progressing with Spring Wheat.

Crop performance, soil fertility and organic matter effects of treatments including bio-based fertilisers will be compared to conventional mineral fertiliser and control plots over the course of the project. As part of the project a similar experiment with a greater number of bio-based fertilisers is also running on grassland at Teagasc Environment Research Centre Farm, Johnstown Castle, Co. Wexford. This demonstration trial fits into the Nutri2Cycle research line – "Innovative soil, fertilisation and crop management systems and practices for enhanced N, P efficiency and increased SOC content". The expected outcome would provide practical information on how to integrate the locally available bio-based fertilisers with chemical fertilisers without compromising crop yield but achieving greater saving on chemical fertiliser use and better soil health.