Go back
Farming for Soil Health
02/05/2023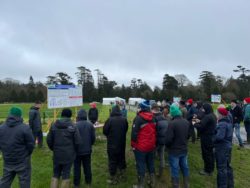 On the 16th of March 2023, Teagasc held a 'Farming for Soil Health' open day at Johnstown Castle in Co. Wexford, Ireland. The event was organised as a means to highlight current research being undertaken within the area of agricultural soil systems, and provided information as to current best practices in managing soil systems on Irish farms. The event also aligned with the 3rd Global Soil Biodiversity Conference, which was held in Dublin, Ireland from the 13th – 15th of March.
The open day attracted 340 attendees who were guided through a grassland trial site area at Teagasc Johnstown Castle. Within the grassland trial site, there were 12 presentation boards in place adjacent to their respective field trial sites. At each board, a Teagasc research officer spoke to the guided groups of attendees and explained the main points related to their respective research work, followed by a question & answer session. The 12 presentation boards covered a wide range of soil- systems-plus-agriculture topics, such as: 'challenges & opportunities for improving soil health on farms'; 'plant diversity enhances soil biology'; 'how to assess soil health in-situ'; 'soil management for tillage crops'; 'straw incorporation & cover crops'; 'soil compaction by machinery traffic'; 'preventing & alleviating physical soil damage'; 'enhancing carbon sequestration'; 'multispecies swards have multiple benefits', and, 'carbon farming on grassland farms'.
Two boards related directly to the work undertaken on the Nutri2Cycle grassland trial site, and were titled: 'how do I enhance soil nutrient supply?', and, 'enhancing soil nutrient supply & soil health – bio-based fertiliser research'. Information contained within the boards referred to the bio-based fertilisers (BBF) trialled on the Nutri2Cycle grassland site, namely, cattle slurry, lime treated dairy processing sludge, activated dairy sludge, struvite sourced from a potato processing plant, struvite sourced from a wastewater treatment plant, incinerated poultry manure ash and incinerated sewage sludge ash. The phosphorous supply of the various BBF when compared against mineral phosphorus fertilisers over the short-term and long-term was discussed on the day. The research officers explained to the attendees that over the long-term, from a single application of P, the cattle slurry balanced with mineral P and the struvite treatments provided the grassland with the most plant available P, not the mineral P treatment. Four years of yield data from the grassland site was also presented to the attendees, with comparable yields observed between the chemical fertiliser (CF) only plots and some of the BBF treatment plots, such as the cattle slurry balanced with CF, struvites balanced with CF and activated sludge balanced with CF. In addition, research on the impact these various treatments have had on earthworm biomass within their respective treatment plots was presented. A bar chart graph displayed a marked increase in earthworm biomass within the cattle slurry plots and struvite plots when compared against the CF only plots.
Please find here a video link to brief explanation on enhancing soil nutrient supply.