Go back
Danuta Dróżdż
Ms. Danuta Dróżdż is a PhD candidate in the joint PhD program with Częstochowa University of Technology (Poland) and Ghent University (Belgium) within the Nutri2Cycle project. Research work is carried out in the laboratories of both universities. Ms. Danuta Dróżdż is supervised by Prof. Erik Meers and Dr inż. Krystyna Malińska.
The work within joint PhD includes extensive research on by-products management from agriculture, specifically poultry manure and agricultural residues with the topic "Production and use of organic soil enhancers and growing media from agro-residues".
The main goal of this work is to close C, N, and P loops through converting biodegradable materials, mainly poultry manure, into organic soil enhancers and growing media, such as dry poultry manure, poultry manure derived biochar, compost to enhancers soil properties, and increase the plant yield. Conversion of poultry manure into organic soil enhancers will be performed through composting, pyrolysis, and drying. In the case of composting, the analysis of C, N, and P fate will be performed in a laboratory composting set-up with a special focus on ammonia emission and nitrogen loss.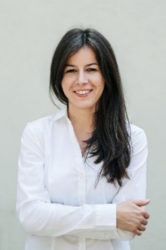 Position
PhD candidate
Institutions involved